Maskinteknologsektionens andra ordinarie vårmöte/Second student division meeting of the spring
mars 31, 2018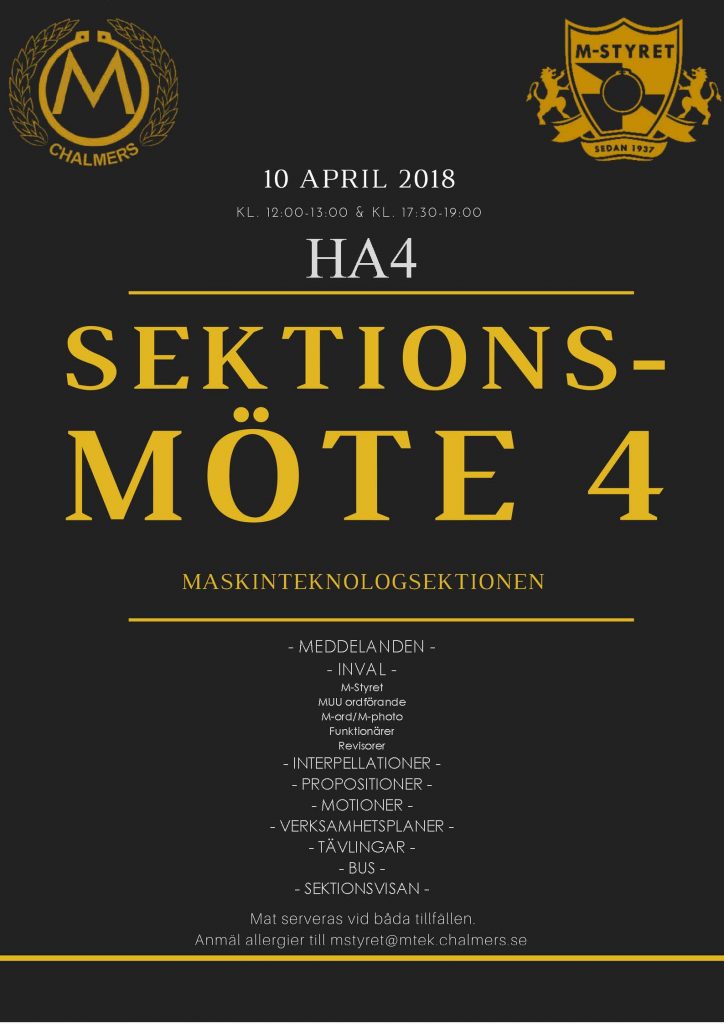 [English below]
M-Styret har påbörjat förberedelser inför Maskinteknologsektionens andra ordinarie vårmöte. Mötet kommer ta plats den 10e april kl 12-13 i HA4 och fortsätter sedan kl 17:30 i samma sal. Som vanligt kommer det bjudas på mat vid båda tillfällena så om ni planerar att dyka upp får ni vänligen anmäla eventuella allergier eller matpreferenser till mstyret@mtek.chalmers.se. Sista datum för att anmäla motioner är torsdag 29e mars vilka ska vara inlämnade i sin helhet torsdag 5e april. Interpellationer lämnas in senast lördag den 7e april. Kom och delta i roliga bus, tävlingar och sång i perfekt stämma. Kallelsen finns att läsa nedan.
Varmt välkomna!
Slutgiltig föredragningslista SM4 20180410
The board has begun preparations för the second annual student division spring meeting. The meeting will take place on the 10th of april at 12:00 in HA4 and is to be adjourned at 13:00 to 17:30 in the same location. As usual there will be food served on both occasions and we would appreciate if those who will be attending could submit any potential allergies or food preferences ahead of time to mstyret@mtek.chalmer.se. Deadline for announcing any new bills i this Thursday the 29th of march and they are to be submitted in by Thursday the 5th of april. Questions for the student division meeting are to be submitted before Saturday the 7th of april. The summoning can be found in Swedish here above.
All are welcome!